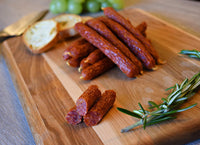 Pepperettes Mild Nitrate-Free 1lb
These are an on-the-go satisfying, savory, and convenient treat. Perfect for the active, adventure-seeking, do anything go anywhere, person. They don't need to be refrigerated but can be stored in a freezer or refrigerator. That's only if you can stop eating them all at once. Fuel your body with the snack sticks made from 100% pastured Ontario pork.
One pound package, 12 sticks per package
Humanely Handled
Hand-Cut, Individually Wrapped
Does not require refrigeration
Federally Inspected & Labeled
Cooking Methods: NONE! Grab and go, ready to eat!
 Ingredients:  pork, water, salt, sodium erythorbate, spice, dextrose, garlic, sodium nitrite, natural smoke
Popular
These do not last long in my house – once the package is opened my family inhales these! Tasty, the mild and the hot ones, and make it hard to go back to the store-bought ones!