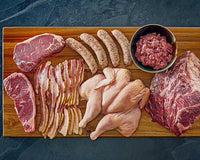 Introducing the Farmer's Market Share: A Bountiful Selection of Exceptional Meats!
Indulge in the finest quality meats with our Farmer's Market Share. This carefully curated package brings together a variety of mouthwatering cuts to elevate your culinary adventures. Get ready to savor the flavors of the finest meats delivered straight to your doorstep.
Inside the Farmer's Market Share, you'll discover a delectable assortment that will excite your taste buds:
Baseball Steaks (Thick-cut sirloin) 6oz X 2: Sink your teeth into these juicy, tender steaks that pack a flavorful punch.

Boneless Skinless Chicken Breasts 1lb X 2: Enjoy the lean and versatile chicken breasts, perfect for creating healthy and delicious meals.

Double-Smoked Centre-Cut Bacon 1lb X 2: Experience the rich, smoky aroma and irresistible taste of our double-smoked bacon.

Lean Ground Beef 1lb X 2: Craft mouthwatering burgers, tacos, or meatballs with our lean and flavorful ground beef.

Whole Chicken (BBQ Capon) 4.25lb X 1: Roast to perfection and savor the succulent flavors of this whole chicken, ideal for family gatherings or special occasions.

NY Striploin Steaks Centre-Cut Ontario Beef AAA 40 Days-Aged 10oz X 2: Delight in the premium taste and tenderness of our perfectly aged striploin steaks.

Picanha Roasts Ontario Beef 40 Days-Aged 3lb X 1: Discover the Brazilian-inspired delicacy, the picanha roast, with its robust flavor and juicy texture.

Cordon Bleu (7-9oz pcs) 2 x 1lb: Treat yourself to these gourmet delights filled with succulent ham and melted cheese.

Prime Rib Burgers Grass-Fed Ontario Beef 40 Days-Aged 4oz X 6: Elevate your burger game with our prime rib burgers, made from grass-fed Ontario beef for an unbeatable taste.

Pork Loin Chops Centre-Cut Frenched Bone-In 10-12oz X 2: Satisfy your cravings with these tender and juicy bone-in pork loin chops.

Ribeye (Boneless) Centre-Cut Ontario Beef AAA 40 Days-Aged 10oz X 2: Indulge in the rich marbling and exceptional taste of our aged, boneless ribeye steaks.
Each item in the Farmer's Market Share is meticulously selected to ensure the highest quality and finest flavors. We take pride in working with local farmers and utilizing superior aging techniques to deliver an unforgettable dining experience.
Whether you're grilling, roasting, or creating culinary masterpieces in your kitchen, our Farmer's Market Share is your gateway to exceptional meats that will tantalize your palate and leave you craving for more.
Don't miss out on this exclusive offering! Visit our website, www.wisermeats.com, and order your Farmer's Market Share today. Elevate your meals and experience the best in meat craftsmanship.
Treat yourself and your loved ones to the ultimate meat-lovers feast with the Farmer's Market Share. It's time to savor the extraordinary flavors that only the finest meats can offer.
#FarmersMarketShare #ExceptionalMeats #PremiumQuality #UnforgettableFlavors #ElevateYourMeals
Great value and service
We've only tried the bacon and some steaks so far and they were both delicious. The steaks were so tender and the bacon had just the right smokiness. Highly recommend - Great communication and friendly service.