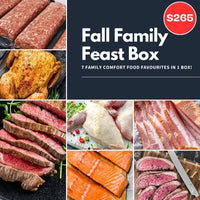 Introducing the Ultimate Fall Family Feast Box: A Culinary Celebration of Autumn's Bounty!

🍁🍂🍽️

We are thrilled to present our new Fall Family Feast Box, carefully curated to delight your taste buds, make your meal planning a breeze, and add a touch of warmth to your autumn gatherings. This box is a culinary masterpiece that captures the essence of fall, offering an array of premium proteins that can be transformed into mouthwatering dishes.

🍗🥓🥩🐟

Here's what you'll find inside:
Chicken Supreme (2 x 1 lb): Succulent, tender, and ready to be roasted, grilled, or turned into a hearty chicken stew. A versatile option for the whole family.

Lean Ground Beef (2 x 1 lb): Ground beef is the foundation for countless comfort food classics, from chili to meatballs. It's lean and full of flavor, perfect for your autumn recipes.

Atlantic Salmon Fillets (6 x 5 oz): Dive into the ocean's bounty with these delightful salmon fillets. Whether you bake, broil, or pan-sear, these fillets are perfect for adding a touch of elegance to your autumn dinners.

AAA Flat Iron Steak (2 x 12 oz): The epitome of steakhouse quality. Grill these beauties to your preferred level of doneness and savor the rich, beefy flavor.

Sliced Premium Bacon (2 x 1 lb): Bacon makes everything better! Crisp it up for breakfast, use it as a garnish for salads or wrap it around your chicken or steak for extra flavor.

Whole Chicken (1 x 2.5 lbs): Roast a whole chicken with fall-inspired herbs and spices, filling your home with the comforting aroma of a home-cooked meal.

Top Sirloin Roast (Picanha) (1 x 3 lb): A centerpiece for your special family gatherings. Roast it to perfection and carve tender slices that will have everyone asking for seconds.
🌽🥕🍂
This Fall Family Feast Box is designed to make meal planning a breeze and elevate your culinary creations during the cozy autumn season. Imagine the delightful aromas that will waft through your kitchen and the joy of serving your loved one's dishes created from these premium ingredients.
Take the chance to embrace fall flavors with our Fall Family Feast Box. Order now and experience the convenience and satisfaction of cooking with the finest ingredients. It's more than just a meal; it's a culinary journey your family will treasure.
Bon appétit! 🍽️🍁