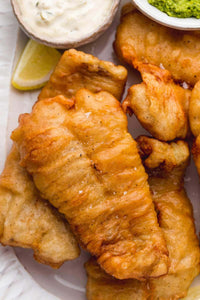 Beer-battered cod is a delicious and satisfying dish that is perfect for seafood lovers. The beer in the batter gives the dish a unique flavor and adds an extra layer of crispiness to the fish. It can be enjoyed on its own or as part of a larger seafood platter.

COOK & ENJOY!!!!!
Beats Captain Highliner
Great big sized cod pieces. Just make sure you cook them enough to be crispy.
Great Fish
We are not much when it comes to eating fish, however this beer battered Cod is "Outstanding."
My wife is very picky when it comes to fish and this is a game changer for us whenever we want a quick meal..