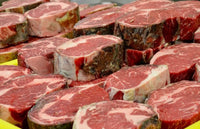 Prepare to be amazed by our Whole Boneless Ribeye, weighing a remarkable 14 pounds. This prime-grade cut is sourced from Ontario's finest grass-fed cattle and has been dry-aged for over 70 days, resulting in an unparalleled dining experience.
The ribeye is renowned for its exceptional marbling, which ensures a juicy and flavorful steak. Our commitment to using prime-grade beef guarantees a tender and melt-in-your-mouth texture that will leave you craving more.
By dry-aging the ribeye for over 70 days, we enhance its natural flavors and achieve a remarkable depth of taste. Each bite is a symphony of savory notes, a testament to the meticulous aging process that creates a truly unforgettable steak.
Sourced from Ontario's grass-fed cattle, this ribeye not only offers exceptional taste but also reflects our dedication to supporting local farmers and sustainable practices.
Whether you're hosting a grand celebration or seeking to elevate your culinary skills, our Whole Boneless Ribeye is the centerpiece you've been waiting for. Grill it to perfection, let the flavors unfold, and indulge in a dining experience that will impress even the most discerning palates.
Don't miss out on the opportunity to savor this prime-grade, dry-aged masterpiece. Order your Whole Boneless Ribeye today and embark on a gastronomic journey like no other.
#WholeRibeye #Boneless #PrimeGrade #OntarioGrassFed #DryAged70Days #CulinaryExcellence #UnforgettableFlavors
Warning - Steak this good is addictive!!
We always get our dry aged steaks from Wiser meats and have never been disappointed. This is our first time buying the entire ribeye. It took no more than five minutes to slice it all and I can't say enough about being able to control the thickness of each steak. If I could leave a 6-Star review, I would have. This is a MUST if you are serious about steak.