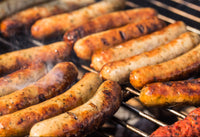 These sausages are a breakfast delight that combines the comforting sweetness of maple syrup with the bold, warming notes of pepper. Here's a detailed description:
Ingredients and Seasoning:
Maple Pepper Breakfast Sausage is made from a high-quality blend of ground meats, which may include pork and/or turkey. The defining feature is the seasoning, which incorporates maple syrup for a touch of natural sweetness and pepper for a subtle kick of warmth and spiciness. These sausages are expertly seasoned to achieve a well-balanced flavor profile.
Flavor Profile:
The flavor profile of these sausages is a delightful fusion of sweet and savory elements. The maple syrup imparts a gentle sweetness that harmonizes with the earthy and slightly spicy notes of the pepper. The result is a sausage that's both comforting and flavorful, making it perfect for a hearty breakfast.
Texture and Juiciness:
Maple Pepper Breakfast Sausages are designed to be juicy and succulent. The combination of meat blend and the maple syrup ensures a satisfying and moist texture, while the ground pepper adds a touch of depth and complexity.
Cooking Versatility:
These sausages are versatile in the kitchen and can be cooked using various methods. They can be pan-fried, grilled, roasted, or simmered in stews and casseroles. The choice of cooking method can be adapted to achieve the desired texture and flavor.
Culinary Applications:
Maple Pepper Breakfast Sausages are an excellent choice for breakfast and brunch dishes. They can be enjoyed on their own, served alongside eggs, pancakes, or waffles, or used as a flavorful addition to breakfast sandwiches and burritos.
Pairings:
These sausages pair wonderfully with classic breakfast accompaniments. Consider serving them with scrambled eggs, toast, fresh fruit, or as part of a hearty breakfast platter. They also go well with a variety of condiments, including mustard, ketchup, and hot sauce.
Presentation:
When cooked, Maple Pepper Breakfast Sausages have an inviting appearance with a golden-brown exterior and a juicy, flavorful interior. They are often visually appealing and emit an enticing aroma, thanks to the combination of maple syrup and pepper.
Bulk Packaging:
The bulk packaging of 140 sausages in an 11-pound package is convenient for businesses or larger gatherings, allowing you to prepare a generous quantity of delicious breakfast items.
In conclusion, Maple Pepper Breakfast Sausage, typically sold in bulk packaging of 140 sausages weighing approximately 11 pounds, is a delightful choice for those who appreciate the balance of sweet and savory flavors in their breakfast. The combination of maple syrup and pepper creates a flavor profile that's both comforting and full of character. Whether you're serving a crowd or simply indulging in a hearty breakfast, these sausages add a delicious and flavorful twist to your morning meals, making them a chef's choice for a satisfying and memorable breakfast experience.
Great breakfast sausages
We decided to try something different to accompany our eggs for breakfast. We're often hesitant to purchase breakfast sausages because they're typically greasy and not as tasty as bacon. However, we've been super-happy with all the meats we've purchased from Wiser Meats, so we decided to give the sausages a try. We were pleasantly surprised. The sausages are not greasy at all and very filling. The taste is outstanding. We freeze the bulk purchase into smaller packages and cook them up a dozen at time to snack on during the week. These sausages taste great with eggs or on their own as a "meat snack". Great breakfast sausages. Thanks, Tim.