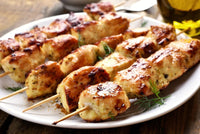 Chicken Kabobs Seasoned 2.25lb average (8 loaded skewers)

Free-Range & Ethically raised in Ontario

COOK & SERVE!
Awesome Chicken Kabobs!!!
The 8 Chicken Kabobs Seasoned skewers were absolutely FANTASTIC! The best ones we ever had! The spices were perfect and the chicken was mouth watering, all my family gave them a 5 stars plus, and the skewers are truly loaded!