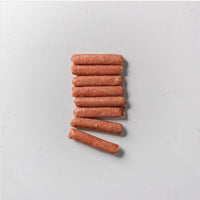 Beef breakfast sausage is a flavorful addition to any breakfast plate. Beef breakfast sausage is typically made from ground beef that is seasoned with a blend of herbs and spices, such as sage, thyme, and black pepper, and formed into sausage links or patties.
Beef breakfast sausage is a great source of protein and adds a savory and meaty flavor to breakfast dishes such as omelets, breakfast sandwiches, and biscuits and gravy. It can also be used as a topping for pizzas or added to pasta dishes for a protein boost.
When cooking beef breakfast sausage, it is important to cook it thoroughly to ensure it is safe to eat. It can be cooked in a skillet, oven, or on a grill, and is typically cooked until it reaches an internal temperature of 160°F.
Overall, beef breakfast sausage is a delicious product that can add flavor and protein to a wide range of breakfast dishes. We recommend using high-quality beef for the best flavor and texture and experimenting with different seasonings to create a unique and flavorful breakfast sausage.
Terrific Beef Breakfast Sausages
These are a great alternative to pork breakfast sausages - they taste great, and of course, the Wiser Meats service is terrific.
Wiser Meats
Breakfast sausages are delicious
Best beef sausage I've had
I don't eat pork so always have a hard time finding beef sausages. Usually they are very fatty and greasy. These sausages are great. They are on the leaner side so don't get as much grease as I have with other beef sausages. They have a great taste and will definitely purchase again.
Best for product and service
I highly recommend Wiser Meats. It was suggested by a friend of mine a few months ago and I am now a returning customer. The beef breakfast sausage is so much better then any store bought meat, if you can even find beef sausage in a grocery store that is. The hamburg meat is so tasty, no heavy filled pink slime, just good meat. The boneless, skinless chicken thighs were amazing. Not heavy water filled meat, like you get at the grocery store, but all meat and barely any grease.
The service is fantastic. On time, friendly delivery, and always with a smile. Can't get better than this.