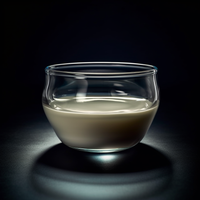 Pure Tallow Grass Fed Non-GMO Keto Friendly Food Grade FREE from 
This food-grade tallow is derived from grass-fed beef that is non-GMO and keto-friendly. It is also free from lactose, gluten, glutamate, and BSE.
What is Tallow?
Tallow is cooked beef fat with a dry and stiff texture, unlike raw fat or suet. It has a 'beefy' taste and is more nutritious than lard. Rendered tallow provides various health benefits and is becoming increasingly popular among paleo diet followers, foodies, and local farmers.
Health Benefits
Tallow contains vitamins D and A, which support bone health, healthy skin, eyesight, and teeth. Its high saturated fat content helps the body absorb these fat-soluble vitamins better. Studies have also shown that tallow is effective in reducing liver damage in alcoholic rats. Grass-fed tallow also contains high levels of CLAs, which can help prevent cancer, fight inflammation, and reduce high blood pressure and osteoporosis. Additionally, the consumption of saturated fat in natural and minimally processed foods like tallow contributes to healthy cholesterol levels, keeping your heart healthy.
Tallow is a vitamin-rich moisturizer that can penetrate deep into the skin. It's similar to our skin's natural oils making it a great fit for nearly anyone. Even our ancestors used tallow for skincare long ago.
Other Merits Tallow can be frozen, stored for a long period without refrigeration, and tastes incredible.
How Can I Use It?
Tallow can be used in the same way as other animal fats like goose or duck fat. It can be used for extra-special roast potatoes, and french fries, and as a substitute for butter in frying pans. Tallow produces delicious results for flash-frying steak and adds an extra meaty flavor to any dish.
It's worth noting that this tallow is also free from antibiotics and steroids.
Happy with the product
We switched to tallow for frying and we're happy with the product and the speed of delivery!
Amazing Product
Worth the cost. Unfortunately it's not able to he shipped to my location anymore. Was looking to stock up on two more tubs.
5/5 stars
Great quality
I really this beef tallow. I cook all my protein with it. Give a nice taste to my meat!
Tallow
Great quality and taste, very fair pricing, quick delivery, what's not to like?
Beef tallow
The tallow is a good quality and a reasonable price. I will purchase it again. Thank you.
Excellent Service
Great for cooking and making soap! Service was quick to my location I was surprised!
Great quality, would buy again.
Great quality!!!!!
I am a first time buyer of Wiser Meats. I am very pleased with the quality of my purchase, the communication, the price and delivery. I will be a returning customer. Thank you!!!!!