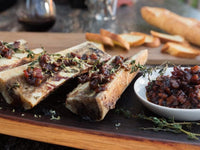 Roasted marrow bones are a decadent and rich dish made from the long, thick bones of the cow's leg that contain rich and creamy marrow inside. They are a popular appetizer or side dish in many restaurants and can be served with crusty bread or as a topping for meat dishes.
To prepare roasted marrow bones, preheat the oven to 450°F (230°C). Arrange the marrow bones in a single layer on a baking sheet or roasting pan, and season them with salt and pepper.
Roast the bones in the oven for about 15-20 minutes, or until the marrow is cooked through and the top of the bones is golden brown and crispy. Remove them from the oven and let them cool for a few minutes.
To serve, you can simply scoop the warm marrow out of the bone with a small spoon and spread it on toast or crusty bread. Some chefs also top the marrow with fresh herbs, such as parsley or thyme, or a sprinkle of sea salt for added flavor. Roasted marrow bones are also delicious when served alongside roasted vegetables or grilled meats, adding richness and flavor to any dish.
Wonderful
I am very happy with my purchase and nest time I will be ordering more and other products too.
Thank you.