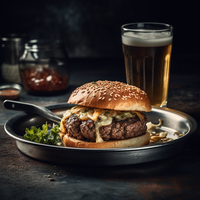 Bison burgers are a delicious and unique twist on a classic beef burger. Bison has a slightly sweeter and richer flavor than beef, and is also leaner, making it a healthier option.
Season the patties with salt and pepper, and any other seasonings you choose, such as garlic powder, paprika, or cumin.
Heat a grill or a pan over medium-high heat and brush the surface with oil to prevent sticking. Cook the bison burgers for about 3-4 minutes per side for medium-rare, or longer if desired. It's important not to overcook the bison burgers, as they can dry out easily due to their lean nature.
Serve the bison burgers on a toasted bun with your favorite toppings, such as cheese, lettuce, tomato, onion, and condiments like mustard, ketchup, or aioli. A side of sweet potato fries or a salad can make for a well-balanced meal. Enjoy the rich and delicious flavor of bison meat in this tasty and healthy burger option.
Ingredients  bison, binder (toasted wheat crumbs, salt, modified starch, soy protein concentrate, dextrose, hydrolyzed corn protein, spice & spice extracts), water

Excellent but cook slow as Bison is lean
I have eaten bison my whole life and beef hamburgers, and I must say if you want the best hamburgers around, try these. Amazing, stay the same size after cooking. Cook slow and watch them, bison is lean, but they are truly the best burgers we've ever had. You will not be disappointed.