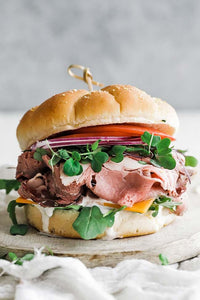 Our roasted beef deli meat is a popular type of sliced meat that is commonly used for sandwiches and salads. It is made by roasting a cut of beef until it is cooked to perfection, then slicing it thinly into small pieces.
This roast beef is seasoned with a variety of herbs and spices, such as garlic, rosemary, and thyme, to add flavor and enhance the natural taste of the meat. It is then sliced thinly, resulting in tender, flavorful pieces that are perfect for sandwiches or wraps.
Roast beef deli meat can be served hot or cold and pairs well with a variety of toppings, such as cheese, lettuce, tomato, onion, and condiments like mustard or mayo. It is a versatile ingredient that can be used in a variety of recipes, from classic roast beef sandwiches to more creative dishes, like roast beef and brie paninis or roast beef and arugula salads.
Overall, thinly roasted beef deli meat is a delicious and convenient way to add protein and flavor to your meals and is a popular choice for sandwiches and salads in many cuisines.
Roast Beef Nitrate-Free Gluten-Free Sliced 1lb
I was really impressed by the roast beef. It had such a different taste than regular store bought roast beef. No slimy feel to it, no overpowering garlic taste, just pure good roast beef taste. I will be buying it again in the future.
Excellent roast beef
Great packaging and green excellent roast beef. I use them for quick Philadelphia cheese steaks on a weeknight.
Nitrate free roast beef slices Gluten Free
It is so lovely to get quality meats with great flavour