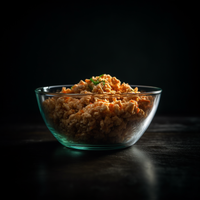 Ground chicken is a versatile and lean protein that can be used in a variety of dishes. It is lower in fat than ground beef or pork, making it a healthier option. Ground chicken can be seasoned with a variety of herbs and spices, and it can be used in a wide range of recipes, from burgers and meatballs to tacos and stir-fries.
Here is a simple and tasty recipe for ground chicken:
Chicken Lettuce Wraps
Ingredients:
1 lb ground chicken
2 tablespoons vegetable oil
1 onion, diced
2 cloves garlic, minced
1/2 cup diced water chestnuts
1/2 cup diced shiitake mushrooms
1/4 cup hoisin sauce
2 tablespoons soy sauce
1 tablespoon rice vinegar
Salt and pepper
Butter lettuce leaves
Chopped scallions and chopped peanuts, for garnish (optional)
Instructions:
Heat the vegetable oil in a large skillet over medium-high heat.
Add the diced onion and minced garlic to the skillet and cook for about 2-3 minutes until fragrant.
Add the ground chicken to the skillet and cook for about 5-7 minutes, breaking it up into small pieces with a wooden spoon, until no longer pink.
Add the diced water chestnuts and shiitake mushrooms to the skillet and stir-fry for another 3-4 minutes until the vegetables are cooked.
In a small bowl, whisk together the hoisin sauce, soy sauce, and rice vinegar.
Pour the sauce into the skillet and stir-fry for another 1-2 minutes until the sauce is heated through and the chicken mixture is coated in the sauce.
Season with salt and pepper to taste.
To serve, spoon the chicken mixture onto butter lettuce leaves, and garnish with chopped scallions and peanuts, if desired.
This recipe is a healthy and flavorful way to enjoy ground chicken. The mixture of vegetables and sauce adds extra flavor and texture, while the lettuce leaves provide a refreshing crunch. This dish can be served as an appetizer or a main course, and it is perfect for a quick and easy weeknight meal.