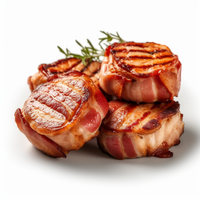 Introducing our delectable Turkey Medallions wrapped in Bacon! These succulent 4-ounce medallions are a true delight for your taste buds.
Our expertly crafted Turkey Medallions combine the tenderness of premium turkey breast with the irresistible smoky flavor of crispy bacon. Each medallion is carefully wrapped in savory bacon, creating a perfect balance of textures and enhancing the natural flavors of the turkey.
These mouthwatering medallions are perfect for any occasion, whether you're hosting a special gathering or simply craving a flavorful and satisfying meal. The generous 4-ounce portion ensures a hearty serving size that will leave you feeling fully satisfied.
With every bite, you'll experience the juicy tenderness of the turkey, complemented by the savory and crispy bacon. The combination of flavors creates a harmonious blend that will have your taste buds dancing with delight.
Whether you choose to grill, pan-sear, or bake these turkey medallions, they are incredibly versatile and can be enjoyed on their own or paired with your favorite side dishes. They make a fantastic addition to salads, and sandwiches, or are served alongside roasted vegetables for a complete and wholesome meal.
Our Turkey Medallions wrapped in Bacon are crafted with the utmost care and attention to quality. We take pride in using the finest ingredients to ensure each medallion delivers an exceptional dining experience.
Experience the perfect union of turkey and bacon in every bite. Order your Turkey Medallions wrapped in Bacon today and embark on a culinary adventure that will tantalize your taste buds and leave you craving for more.
#TurkeyMedallions #BaconWrapped #SavoryDelight #IrresistibleFlavors #PerfectlyTender
Very nice
Worried a bit about it being too dry, but instead it was moist and tasty!