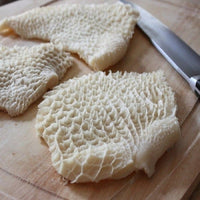 Beef tripe is the edible lining of the stomach of a cow. It is a type of offal, which refers to the internal organs of an animal that are used for food. Tripe can be found in different parts of the world, and it is a popular ingredient in many cuisines, including Mexican, Italian, and Chinese.
Beef tripe is known for its unique texture and flavor, which some people find appealing, while others may find it off-putting. Tripe has a chewy and slightly rubbery texture, and its flavor is mild, somewhat earthy, and slightly gamey.
From a nutritional standpoint, beef tripe is a good source of protein, and it is relatively low in fat and calories. A 3.5-ounce (100-gram) serving of cooked beef tripe contains approximately:
94 calories
16.2 grams of protein
2.3 grams of fat
0.4 grams of carbohydrates
Tripe is also a good source of several important nutrients, including vitamin B12, zinc, and iron. However, it is important to note that tripe can be high in cholesterol, so people with high cholesterol levels should consume it in moderation.
Overall, beef tripe is a nutritious and versatile ingredient that can be used in a variety of dishes, from soups and stews to tacos and stir-fries. However, its unique texture and flavor may not be to everyone's liking.