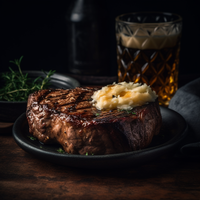 This is a premium quality cut of meat that is highly sought after for its exceptional flavor, tenderness, and marbling. This steak is sourced from Ontario, Canada, where the cattle are raised in a natural and sustainable environment, without the use of added hormones, antibiotics, or other harmful additives.
The 100% grass-fed and finished aspect of this beef means that the animals are fed a natural diet of grass and other forage, which promotes their overall health and well-being. This, in turn, results in beef that is leaner, more nutrient-dense, and higher in healthy fats such as omega-3s.
The ribeye steak is cut from the rib section of the cow and features a rich buttery flavor that is complemented by its juicy and tender texture. The steak is best prepared with minimal seasoning to allow its natural flavor to shine through, and it can be cooked to the diner's preference, whether rare, medium-rare, or well-done.
Overall, this is a premium cut that will elevate any dish it is used in. Its natural, sustainable, and grass-fed attributes make it a healthier and more ethical choice for diners who are looking for high-quality beef. We highly recommend this cut for its unparalleled flavor and texture.
Incredible meats!!
Fast delivery, delicious flavour and that's why I keep coming back.