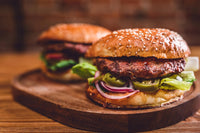 Introducing the Banger Burger: A Perfect Fusion of Flavor and Quality! 🍔🔥
Get ready for a burger experience like no other with our mouthwatering Banger Burger! 🤤🍔 Combining 70% Prime Rib and 30% English Banger Sausage, this 6oz delight is the ultimate fusion of flavors that will tantalize your taste buds.
🥩 Prime Rib Perfection: We start with the finest Prime Rib, aged for 40+ days to achieve unparalleled tenderness and rich flavor. Each bite of our Banger Burger is a juicy and succulent delight that will leave you craving more.
🌱 Grass-Fed Goodness: We take pride in sourcing beef from Ontario's trusted grass-fed farms. Our commitment to quality means you can enjoy a burger that tastes incredible and is ethically and sustainably raised.
🌭 Sausage Sensation: The addition of English Banger Sausage brings a unique twist to our Banger Burger. With its savory blend of herbs and spices, it adds a burst of flavor that perfectly complements the juicy Prime Rib.
🍽️ Elevate Your Burger Game: Whether you're firing up the grill or cooking indoors, the Banger Burger is the star of any meal. Impress your guests with this gourmet creation or savor it for a delicious mealtime treat that will satisfy your cravings.
👨‍🍳 Chef's Recommendation: For the ultimate burger experience, top your Banger Burger with your favorite cheese, crispy lettuce, ripe tomatoes, and a dollop of tangy sauce. Serve it on a toasted bun for that perfect combination of textures and flavors.
🛒 Ready to elevate your burger game? Order your Banger Burgers today. Get ready to experience a burger sensation that will leave you wanting more!
#BangerBurger #PrimeRib #EnglishBangerSausage #GrassFedBeef #GourmetBurger #BurgerExperience #SavorTheFlavor #WiserMeats #TasteTheDifference