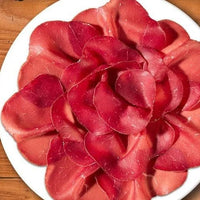 Citteria Bresaola Nitrate-Free Gluten-Free Whole 3lb

Bresaola is dried cured beef. It is very lean, soft, and juicy, with an almost crumbly texture and deep red color. Thin veins of fat make it look like marble.
Minimally processed. No artificial ingredients.
Enjoy it as an appetizer, on your sandwich, or in a salad. 

Bon appetite!
Ingredients: beef, sea salt, cultured celery powder, sugar, natural flavor, pepper, spices.