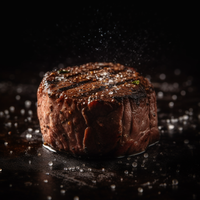 Filet Mignon 6oz AAA 40+ Days Aged Grass-Fed Ontario Beef (2 per case)
Filet mignon is a steak cut of beef taken from the smaller end of the tenderloin. In French, this cut is always called filet de bœuf, which translates in English to beef fillet
Proudly & ethically farmed in Ontario
Beef - Filet Mignon 6oz AAA
This Filet was melt in your mouth tender !Folks try it,and throw in the baseball steaks Those are my all time favorites !
Always high quality meats, and the customer service is a A++++++
When I have wisers meats at a dinner party , I know everyone will enjoy
Great quality
We enjoyed the filet mignon for Father's Day dinner, and the cut was excellent. The filets were perfectly sliced for even cooking, and the meat was very high quality. The steak knife went through it like butter. Thank you! We plan to place an order again soon.
Melted like Butter
Amazing tender steak that you could have cut with a butter knife!!
Excellent meat
I loved your fillet mignon; tender and tasty 😋