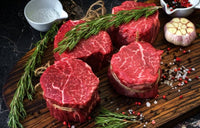 Filet Mignon 8oz Prime Grade 40+ Days Aged Grass-Fed Ontario Beef (Sold in pairs)
It is often the most tender and lean cut. Filet mignon often has a milder flavour than other cuts of meat and as such is often garnished with a sauce or wrapped with bacon. Due to the small amount of filet mignon able to be butchered from each animal, it is generally the most expensive cut of meat.

Proudly & ethically farmed in Ontario
Exceptional Steaks
These tenderloin steaks are exceptionally good; tender, juicy and flavourful. We have served these to guests multiple times with rave reviews. I like to use a garlic, salt and pepper based rub and reverse sear them over charcoal with cherry smoke for extra flavour. So good!
Family in town, first visit in 4 years, needed Wiser steak 🥩
For this special occasion knew we could count on Wiser Meats to deliver. Brother after two bites, stopped and swore as to how tender it was. Finished his steak and announced it was the best he has very had.