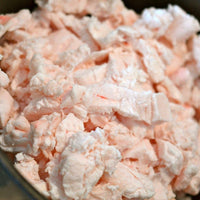 This is a versatile and flavorful ingredient that can be used in a variety of dishes. Grass-fed beef fat is the fat that is rendered from the beef of grass-fed cattle that have been raised on a natural diet of grass and other forage.
The fat from grass-fed beef is different from that of grain-fed beef, as it is typically lower in saturated fats and higher in healthy unsaturated fats such as omega-3s. This makes it a healthier option for cooking and adds a rich and distinct flavor to dishes.
Grass-fed beef fat can be used in a variety of cooking methods, such as sautéing, frying, or roasting, and adds flavor and richness to dishes such as roasted vegetables, potatoes, or meats. It can also be used to make homemade beef tallow or as a substitute for butter or oil in cooking and baking.
When using grass-fed beef fat, it is important to choose high-quality fat from reputable sources to ensure the best flavor and texture. It can be stored in the refrigerator or freezer for later use and should be heated slowly over low heat to prevent burning.
Overall, grass-fed beef fat Ontario is a versatile and flavorful ingredient that can add richness and depth to a wide range of dishes. As a chef, I recommend experimenting with this ingredient to discover new and delicious ways to incorporate it into your cooking.
LOVE Wiser Meats !
Love the rendered fat to fry in ! I make my own raw dog food and use whole Wiser Fat to make my dog food !
Great source of calories for keto diet
It helps me keep strong on a keto diet.