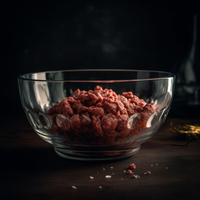 Ground "Burger Blend" is a mixture of three cuts of beef: Chuck, Brisket, and Short Rib. These three cuts are combined in a specific ratio to create a perfect blend that results in a juicy, flavorful, and tender burger patty.
Chuck is a popular cut for ground beef because it has a good balance of meat and fat, which makes for a juicy and flavorful burger. Brisket, on the other hand, is a tougher cut of meat, but it has a rich, beefy flavor and adds a depth of flavor to the burger. Short Rib is a well-marbled cut that adds both tenderness and richness to the burger.
When these three cuts are ground together, they create a burger blend that is greater than the sum of its parts. The Chuck provides the juiciness, the Brisket provides the depth of flavor, and the Short Rib adds tenderness and richness.
Ground "Burger Blend" is perfect for making burger patties that are flavorful, juicy, and tender. It can be cooked on a grill, in a skillet, or on a griddle, and it can be served with a variety of toppings and sauces.
Overall, Ground "Burger Blend" is a high-quality and delicious option for burger lovers who want a burger that is more than just meat and bun.
Ground burger blend
Probably the best tasting burger I have ever ate.Thank you Wiser meats and Tim Frisby