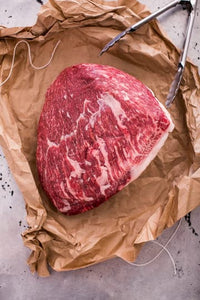 American wagyu picanha is a highly prized and delicious cut of beef that comes from the top sirloin area of the cow. It is known for its high level of marbling, which gives it a rich, buttery flavor and tender texture.
To prepare American wagyu picanha, start by bringing the meat to room temperature and seasoning it generously with salt and pepper. Heat up a grill or grill pan to medium-high heat, and sear the meat on all sides until a nice crust forms.
Once the meat is seared, move it to the cooler side of the grill or reduce the heat to medium-low, and continue cooking until it reaches your desired level of doneness. Use a meat thermometer to check the internal temperature of the meat - a temperature of 130°F (55°C) for medium-rare or 140°F (60°C) for the medium is recommended.
Remove the meat from the grill and let it rest for 5-10 minutes before slicing it thinly against the grain. This allows the juices to redistribute and ensures that the meat stays moist and tender.
Another great way to prepare American wagyu picanha is to roast it in the oven. Preheat the oven to 375°F (190°C), and sear the meat in a hot skillet or grill pan until a nice crust forms. Then, transfer the meat to the preheated oven and roast for about 10-15 minutes, or until it reaches your desired level of doneness.
When serving American wagyu picanha, it is important to let the natural flavors of the meat shine through. Keep the seasoning simple, and serve it with a side of chimichurri sauce or a light salad to complement the rich flavor of the beef.
Overall, American wagyu picanha is a premium cut of beef that is sure to impress your guests or family when cooked to perfection. With the right preparation and cooking techniques, it can be a standout dish at any meal.