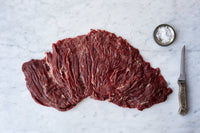 An increasingly popular steak, with incredible flavour. This cut is most suited to flash-frying or barbecuing. A flat sheet of meat, well-marbled, with a soft, loose texture. 
To really impress, put a whole piece on the barbecue. The perfect cut for steak salads or a great sandwich. Sear for a few minutes on each side, rest and slice into thin ribbons.
2.5lb average
A must for epic tacos
Great quality and deep flavour!
With a large family a full cut is the way to go.
Bavette
This is probably my favourite cut of beef
Beautiful rich flavour
Very versatile cut
Definitely a must in every order 😁