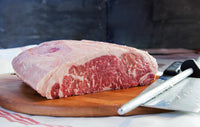 Introducing our culinary masterpiece: the Whole Striploin Prime Grade Dry-Aged for over 70 days, sourced from Ontario. Weighing in at a generous 11 pounds, this remarkable cut is a testament to exceptional quality and craftsmanship.
Every inch of this striploin showcases the artistry of dry-aging, allowing flavors to deepen and intensify over time. The prime-grade beef ensures remarkable marbling, resulting in a tender, juicy, and melt-in-your-mouth experience with each bite.
Our commitment to sourcing from Ontario means you can enjoy the finest, locally-raised beef, supporting our local farmers and sustainable practices.
Whether you're hosting a grand feast or impressing guests at a special occasion, this Whole Striploin will be the star of the show. Expertly prepare it to your preferred level of doneness and watch as the flavors unfold, creating an unforgettable dining experience.
Don't miss the opportunity to indulge in this prime-grade, dry-aged masterpiece. Order your Whole Striploin today and elevate your culinary repertoire to new heights.
#WholeStriploin #PrimeGrade #DryAged70Days #OntarioBeef #CulinaryMasterpiece #UnforgettableFlavors
Prime Grade is the top 2% of beef produced in Canada