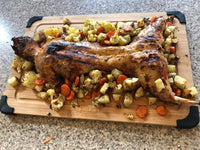 Rabbit is a lean and tender meat that is often compared to chicken in terms of texture and flavor. It can be prepared in a variety of ways, such as roasted, braised, or grilled, and is often used in stews, casseroles, and pasta dishes.
One of the best ways to prepare a rabbit is to roast it in the oven. Start by seasoning the rabbit with salt and pepper, and any other desired herbs and spices, such as thyme, rosemary, or garlic. Rub the rabbit with olive oil to help it stay moist during cooking.
Preheat the oven to 375°F (190°C). Place the rabbit in a roasting pan with a rack, and add a cup of liquid, such as water, chicken broth, or wine, to the bottom of the pan. Roast the rabbit in the oven for about 30-35 minutes per pound, or until the internal temperature of the meat reaches 160°F (71°C) for safe consumption.
Once the rabbit is cooked, remove it from the oven and let it rest for a few minutes before carving. This will allow the juices to redistribute throughout the meat, making it more tender and flavorful.
Rabbit can be served with a variety of sides, such as roasted vegetables, rice, or potatoes. It also pairs well with sauces that have a slightly sweet or acidic flavor, such as a cherry or orange sauce.
If you prefer a more tender and flavorful rabbit, consider braising it in a slow cooker or Dutch oven with a mixture of vegetables, herbs, and spices. This will result in a moist and flavorful dish that is perfect for chilly nights or special occasions.
Yummy rabbit
We ordered three frozen rabbits from Wisers and they were delicious. My husband followed a YouTube video to butcher them which was a successful adventure. Made rabbit stew for a group which turned out really well.