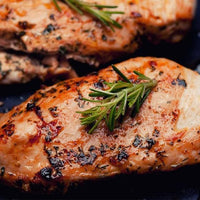 Bone-In Skin-On Chicken Breasts Halal 2lb average
When you choose bone-in, skin-on chicken breast halves, the game changes. Sure, they take longer to cook than their boneless kin, but the bone helps even heat distribution, while the skin protects the interior so the meat is juicy after cooking -- and there's crispy skin to boot.
Product of Ontario
Made with the finest quality fresh chicken, this boneless skinless breast chicken has been individually blessed, hand-slaughtered and air chilled for quality.