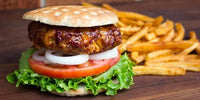 Pork - Hot Mexican Chorizo Meat Patties 5oz x 4 pieces

This delicious style of pork sausage uses only premium ingredients which include an amazing Mexican spice aftertaste.

Spiced & hand-made daily, tasty pork sausages, vacuum-packed

- Pork raised without antibiotics
- Certified humane

Ingredients:  Pork, Water, Paprika, Salt, Ground garlic, Cracked black pepper, Crushed chillies, Ground caraway, White pepper, Dextrose

I love it!
They taste great and are easy to cook . Definitely buying more when I get the chance.