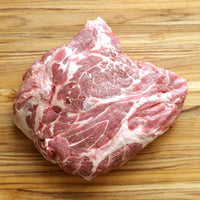 Kurobuta (Berkshire) Shoulder 10lb

Ethically raised on Ontario farms without added hormones & antibiotics
For almost four centuries the most flavorful

 

pork

 

has come from the

 

Berkshire

 

breed of

 

hogs. Known as the "black

 

pig" to many, the superior taste of

 

Berkshire

 

makes it the ideal choice for everything from tasty barbecued chops to moist delicious hams.


Berkshire pigs actually

 

have more unsaturated fat

 

(versus high levels of saturated fat) than conventionally bred pigs (classified as "meat-type pigs"). ... When cured, Berkshire meat makes unsurpassed hams, charcuterie, and salamis, and our famous dry-cured European farm bacon.
Absolutely incredible
The pork shoulder was by far the best piece of pork I've ever smoked
Amazing flavour, incredibly juicy
A must try
Will definitely purchase again