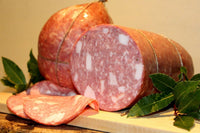 Mortadella Nitrate-Free Gluten-Free Sliced 1lb
Mortadella
 (Italian pronunciation: [mortaˈdɛlla]) is a large Italian sausage or luncheon meat (salume [saˈluːme]) made of finely hashed or ground heat-cured pork, which incorporates at least 15% small cubes of pork fat (principally the hard fat from the neck of the pig). 
Mortadella
 is a product of Bologna, Italy.

Ingredients:

  Pork, Modified Milk Ingredients, Water, Salt, Dextrose, Flavour, Spices, Sodium Phosphate, Sodium Erythorbate, Ascorbic Acid, Sodium Nitrite.



Excellent
We tried some of the mortadella and it's excellent!