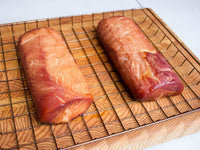 Smoked Back Bacon Nitrate Free 4lb
Back bacon is a cut of bacon that includes the pork loin from the back of the pig. It may also include a portion of the pork belly in the same cut. It is much leaner than side bacon made only from pork belly. Back bacon is derived from the same cut used for pork chops.
Excellent product
You don't find back bacon like this many places. Highly recommend
AMAZING BACON!!
Love this bacon, intense flavor!! I eat it every day for breakfast, lean, not alot of fat 👍👍