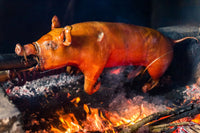 Introducing the Culinary Delight: 35lb Suckling Pig!
Prepare for an unforgettable gastronomic experience with our 35lb suckling pig. This exquisite culinary masterpiece is the epitome of tenderness and flavor, sure to impress even the most discerning palates.
🐖 Tender Perfection: Our suckling pig is carefully sourced to ensure optimal tenderness. The young age of the piglet results in exceptionally tender meat that melts in your mouth, delivering a delightful and satisfying dining experience.
🔥 Roasted to Perfection: The roasting process brings out the pig's natural flavors and creates a tantalizing aroma that will captivate your senses. The crackling skin, golden and crispy, encases the succulent meat, creating a perfect harmony of textures.
🍽️ Perfect for Gatherings: Whether you're hosting a family gathering or a special celebration, our 35lb suckling pig is an ideal centerpiece that will impress your guests. It provides ample servings to satisfy everyone's appetite and make the occasion truly memorable.
💫 Culinary Creativity Unleashed: Elevate the flavors of our suckling pig by infusing it with your favorite herbs, spices, or marinades. Let your creativity soar and customize the taste profile to create a unique and unforgettable dining experience.
🌿 Ethical Sourcing: We prioritize ethical sourcing and partner with trusted farms to ensure our pigs are raised in a humane and sustainable manner. This commitment to responsible practices reflects our dedication to providing you with the finest quality ingredients.
🍴 Unforgettable Moments: Gather your loved ones around the table, savor each succulent bite of our 35lb suckling pig, and create lasting memories. The richness of flavors and the joyful ambiance will make this culinary journey an unforgettable one.
🛒 Ready to elevate your dining experience? Indulge in the ultimate culinary delight and let the flavors transport you to a world of gastronomic bliss.
#SucklingPig #CulinaryDelight #TenderPerfection #RoastedToPerfection #WiserMeats #GastronomicExperience #FlavorfulJourney