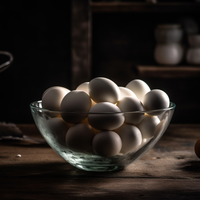 Why farm fresh eggs?
Roam-free hens with a more diverse diet that leads to more nutritional value in their eggs
More golden yolks and stiffer egg whites than most eggs found in the grocery store
The eggs are fresh! The eggs we sell have all been laid in the last five days and washed
Helps support local egg farmers
Grown without added hormones or growth enhancers
Their shelf life is 4 weeks refrigerated
Great quality
Very good quality and fresh and yummie! I liked that it came in 3 dozens too. We ate them up within the week.. ;)
Excellent eggs !!
These are what real eggs are supposed to taste like !!! Not like the garbage at the grocery store...nice hard shell...we'll definitely be buying more 👍👍