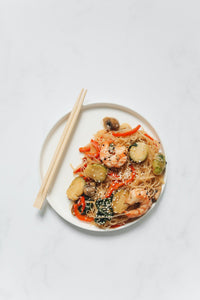 Pacific White Shrimp Peeled & Deveined 21/25 refers to a type of shrimp that has been peeled (the shell removed) and deveined (the digestive tract removed). The "21/25" designation indicates the size of the shrimp, meaning there are approximately 21 to 25 shrimp per pound.
These shrimp are known for their sweet and delicate flavor, making them a popular choice in various culinary dishes. When serving Pacific White Shrimp, here are some delicious and versatile ways to prepare and present them:
Shrimp Cocktail: Boil the shrimp briefly in salted water until they turn pink and are fully cooked. Chill them and serve with a classic cocktail sauce made of ketchup, horseradish, lemon juice, and Worcestershire sauce.

Garlic Butter Shrimp: Sauté the shrimp in garlic-infused butter until they are pink and cooked through. Sprinkle with chopped parsley and a squeeze of lemon juice before serving. This dish pairs wonderfully with rice or crusty bread.

Shrimp Scampi: Sauté the shrimp in a garlic and white wine sauce, finishing with a touch of lemon juice, butter, and chopped parsley. Serve over linguine or spaghetti for a delicious and elegant meal.

Shrimp Tacos: Season the shrimp with cumin, chili powder, and lime juice before grilling or sautéing. Serve them in warm tortillas with avocado slices, shredded lettuce, diced tomatoes, and a drizzle of creamy chipotle sauce.

Shrimp Stir-Fry: Quickly stir-fry the shrimp with a medley of colorful vegetables like bell peppers, broccoli, and snap peas. Add a savory soy sauce-based sauce and serve over steamed jasmine rice.

Shrimp and Grits: Sauté the shrimp in a Cajun-inspired sauce with bell peppers, onions, and diced tomatoes. Serve the shrimp over creamy and cheesy grits for a comforting Southern dish.

Shrimp Salad: Boil or grill the shrimp, then chop them into bite-sized pieces. Toss the shrimp with a light vinaigrette dressing and mix with fresh greens, cherry tomatoes, cucumbers, and avocados.
Remember to season the shrimp with salt and pepper to taste in all of these preparations. Additionally, when cooking shrimp, be careful not to overcook them as they can become rubbery and lose their natural sweetness. The best way to serve Pacific White Shrimp is to highlight their natural flavor and complement them with fresh ingredients and flavorful sauces. Enjoy!