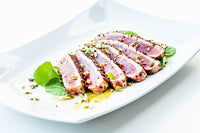 Wild Caught Ahi Tuna Boneless & Skinless 8oz each (4 per case)

If you've never had a tuna steak, you don't know what you're missing. Seared to form a delicious crust but still rare inside, a steak of quality tuna is not at all fishy but is savory, and meaty, with a slight sweet freshness that is incredible. It is the red meat of the sea. But it is, alas, all too often overcooked. Particularly by home cooks. And when it's overcooked, it loses much of its charm.
4 X 8oz filets 
Tasted like fresh from the ocean.
Ahi tuna was great only mistake I didn't order enough.. invited some close family friends over and made some fresh poke bowls. Crowd hit
We had 3 left over grilled them on the boat on my Webber and had a great refreshing lunch
Great product great service as always
Seared in grape seed oil brushed with Siracha and soya sauce mix rolled in sesame seeds
Amazing Ahi Tuna!
Terrific ahi tuna steaks - and also terrific tuna steak cubes for poke bowls. Great price and quality.
Great flavour and great value!
We love these tuna steaks! I brush them with soy sauce, coat them with a sesame seed and seasoning mix and then sear them for one minute per side in a cast iron skillet. Delicious! Highly recommend this product!