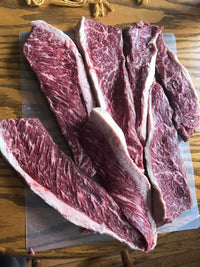 Beef - Coulotte Steak (Picanha) - Australian Wagyu F1 100% grain-fed & finished 60+ Days Aged HALAL - 12oz
Coulotte steak is a boneless cut of beef from the top sirloin. It is a slice of the picanha. The best way to identify a cut of this steak is by the thick layer of fat that covers only one side of it. Although this steak doesn't have a huge amount of marbling, it is very tender and tasty.  
Coulotte steak is a very popular cut in Brazil (under a different name). It is a flavorful and juicy cut that is easy to cook. Coulotte is famous for its layer of fat, which gives the steak a beautiful texture when cooked. This specific cut is known as an excellent steak for grilling.