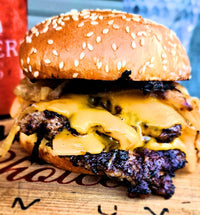 "Beef Wiser Black Angus Burgers" as a mouthwatering and premium choice for burger enthusiasts. These delectable burgers are made from high-quality Ontario grass-fed Black Angus beef, ensuring a rich and flavorful taste that is both tender and juicy.
Each burger weighs approximately 6 ounces, providing a substantial and satisfying meal option. The use of grass-fed beef not only enhances the taste but also contributes to a healthier and more sustainable choice, as grass-fed cattle tend to have higher levels of essential nutrients and lower amounts of unhealthy fats.
The Wiser Meats website (https://www.wisermeats.com/products/beef-wiser-black-angus-burgers-6oz-ontario-grass-fed-4-pieces) showcases the product with an attractive presentation and provides four pieces of these delectable burgers per pack, making it a convenient option for family dinners, barbecues, or any gathering with loved ones.
I would recommend grilling these Black Angus burgers to perfection, allowing the natural flavors to shine through and creating a delightful dining experience. Whether served with classic toppings like lettuce, tomato, and cheese, or accompanied by gourmet additions such as caramelized onions, avocado, or specialty sauces, these burgers are sure to please any discerning palate.
Overall, "Beef Wiser Black Angus Burgers" from Wiser Meats is a delectable and top-quality choice for burger aficionados who value taste, nutrition, and sustainability. Enjoy culinary delight with these mouthwatering grass-fed beef burgers that are certain to elevate any meal.