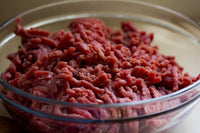 Prime Grade Ground Chuck, specifically sourced from Ontario, where the cattle are grass-fed. Each package contains 1 pound of this exceptional ground meat. Here's what makes it a standout choice for your culinary creations:
Quality and Grading:
"Prime Grade" is one of the highest quality grades of beef, known for its superior marbling and tenderness. This signifies that the meat is well-finished and provides a rich and flavorful taste. The emphasis on quality is a testament to the care in sourcing.
Chuck Cut:
Ground Chuck is derived from the chuck section of the beef, which includes meat from the shoulder and neck area. This meat is prized for its ideal balance of meat-to-fat ratio, making it superb for ground beef. It offers a delicious, beefy flavor while retaining juiciness.
Grass-Fed:
The fact that this meat comes from grass-fed cattle in Ontario adds to its appeal. Grass-fed beef is often favored for its slightly leaner profile and the natural flavors it derives from the cattle's diet of pasture grasses.
Flavor Profile:
Prime Grade Ground Chuck boasts a robust, beefy flavor with a savory depth that can elevate your dishes. The marbling inherent to Prime Grade beef adds richness and succulence to your culinary creations.
Versatility:
Ground Chuck is incredibly versatile in the kitchen and can be used to prepare a wide range of dishes, from classic burgers and meatloaf to hearty Bolognese sauce, chili, and meatballs. Its balanced meat-to-fat ratio allows it to hold its shape and deliver a delectable, juicy result.
Cooking Methods:
You can cook Prime Grade Ground Chuck using various methods, such as grilling, pan-frying, broiling, or simmering in stews and sauces. The choice of cooking method depends on the recipe and the desired outcome.
Nutritional Benefits:
Grass-fed beef is known for being slightly leaner and for containing higher levels of certain nutrients, such as omega-3 fatty acids and antioxidants. It's a great choice for individuals who appreciate both flavor and nutrition.
Pairings:
This ground chuck pairs well with a wide range of ingredients, whether you're creating comfort food classics or experimenting with international flavors. Consider pairing it with onions, garlic, mushrooms, fresh herbs, or a variety of vegetables.
In conclusion, Prime Grade Ground Chuck sourced from Ontario, where the cattle are grass-fed, and sold in 1-pound packages, is a premium choice for your culinary endeavors. Its exceptional quality, ideal meat-to-fat ratio, and rich beefy flavor make it a go-to option for creating delicious and satisfying dishes. Whether you're preparing a classic American burger or crafting a gourmet meat sauce, this ground chuck sets a high standard for your culinary creations.