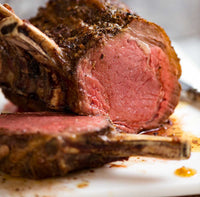 Prime Rib Roast (Bone-In) 5lb - AAA 40+ Days Aged Ontario Beef
It is the king of beef cuts. It's called a standing rib roast because to cook it, you position the roast majestically on its rib bones in the roasting pan. Beautifully marbled with fat, this roast is rich, juicy, and tender—a feast for the eyes and the palate.
Product of Ontario
ROAST TEMPERATURE GUIDE
Here are the magic numbers you'll need to determine when your roast is cooked to the degree of doneness you most prefer. The internal temp is when the roast should be removed from the heat. The roast will continue to cook so the temperature will rise during the rest period.
| PREFERENCE | DESCRIPTION | INTERNAL TEMP |
| --- | --- | --- |
| Rare | Red center, very cool | 110°F |
| Medium Rare | Red, warm center | 120°F |
| Medium | Pink throughout | 130°F |
| Medium Well | Pink center | 140°F |
| Well | No pink | Not recommended |
*Consuming raw or undercooked meats may increase your risk of foodborne illness. We recommend an internal temp of 145°F and resting for at least 3 minutes.