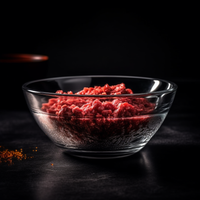 As a chef, ground bison is a lean, flavorful, and healthy alternative to ground beef. Bison meat comes from North American buffalo, which are grass-fed and typically raised without hormones or antibiotics. The resulting meat is leaner and lower in fat than beef, while still retaining a rich flavor and texture.
To cook ground bison, it is important to handle it gently to avoid overworking the meat and making it tough. It can be prepared in many of the same ways as ground beef, such as sautéing, grilling, or baking. However, it is important to note that bison meat cooks faster than beef due to its lower fat content, so it is important to watch it closely to avoid overcooking.
When seasoning ground bison, it is best to keep it simple to allow the flavor of the meat to shine through. Salt, black pepper, and garlic are popular choices, as are fresh herbs like thyme and rosemary. For a little heat, you can also add some chili powder or red pepper flakes.
Ground bison can be used in a variety of dishes, from burgers and meatballs to chili and shepherd's pie. It is a versatile ingredient that can be substituted for ground beef in most recipes, while also providing a healthier and more sustainable protein option.
Love it!
Great taste, fast delivery and awesome packaging. Will buy again.