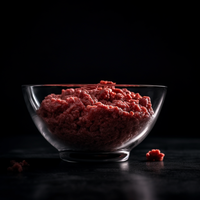 Ground elk meat is a lean and flavorful alternative to ground beef or bison. Elk is a game meat that comes from North American elk, which are typically raised in a free-range, natural environment. The meat is leaner than beef or bison, with a distinctive flavor that is often described as slightly sweet and earthy.
To cook ground elk, it is important to handle it gently to avoid overworking the meat and making it tough. Elk meat cooks faster than beef or bison due to its lower fat content, so it is important to watch it closely to avoid overcooking.
When seasoning ground elk, it is best to keep it simple to allow the flavor of the meat to shine through. Salt, black pepper, and garlic are popular choices, as are fresh herbs like thyme and rosemary. For a little heat, you can also add some chili powder or red pepper flakes.
Ground elk can be used in a variety of dishes, from burgers and meatballs to chili and spaghetti sauce. It is a versatile ingredient that can be substituted for ground beef or bison in most recipes, while also providing a unique and flavorful twist. Additionally, elk meat is a great source of lean protein and is lower in fat and calories than beef, making it a healthy choice for those watching their diet.