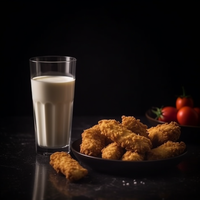 Wiser Strips are air-chilled free-range boneless skinless chicken tenders that are best described as:
Air-chilled: The chicken used in these tenders has been processed using the air-chilled method, which involves cooling the meat using refrigerated air instead of water. This method helps to preserve the natural flavor and texture of the chicken while reducing the risk of contamination.

Free-range: The chickens used in these tenders have been raised in a free-range environment, with access to the outdoors and plenty of space to roam and forage. Free-range chickens tend to produce meat that is leaner and more flavorful.

Boneless, skinless: These chicken tenders have been carefully trimmed to remove the bones and skin, resulting in a lean and tender cut of meat that is easy to prepare and cook.

Breaded: The chicken has been coated in a crispy and flavorful breading made from a mixture of bread crumbs, herbs, and spices. This coating adds a delicious crunch and flavor to the chicken, making it a popular choice for dishes like chicken sandwiches, wraps, and salads.
Overall, breaded air-chilled free-range boneless skinless chicken tenders are a delicious and versatile cut of meat that can be used in a variety of dishes. You will be proud to serve these tenders to friends & family knowing that they are made from high-quality ingredients and prepared with care.
400° for 20 minutes (flip them at 10 minutes) 
Absolutely amazing!
These have always been a family favorite. Recently we tried them in our air fryer and they were taken to a whole new level!
Better than I expected!!
Once you try these, you cannot go back to store bought chicken strips. They are very tasty, and I love that they are made with real chicken. Also both the communication and deliveries are excellent. Thank you Tim
Chicken Strips
Best you can get out there!
always good
We have been ordering Wiser Meats for just under a year and every time the quality is great. We prefer the food from here over any other store in the area.
Best I've Found!
Beautiful white meat, nice seasoning, crispy coating. These are fantastic! 10 minutes in air fryer at 400. I spray them with Cooking Spray.l to ensure a crispier finish. If I'm in a rush, I'll defrost them in the microwave and finish them in the airfryer. All done in less than 6 minutes.
Awesome!
Highly recommend! These strips are so tasty.
Excellent
Quality of these chicken strips is excellent. Following the listed instructions, the breading gets good and crisp while the meat stays tender and juicy. Unseasoned so make sure to use a strongly flavored sauce. Highly recommend
Chicken strips
We love these. Will definitely purchase again. Better than anything you can buy in the grocery store.
Good chicken strips
Above average but not extraordinary. My only issue was the varying sizes made it harder to deep fry with the carrying cooking times. I have other suppliers whose tenders I prefer so I wouldn't reorder these but these were enjoyable too. As always Wiser Meats provided fantastic service and I look forward to ordering from them again.
chicken fingers
They are that good that you don't offer them to friends, LOL
very delicious and exactly like what i have ordered in restaurants.