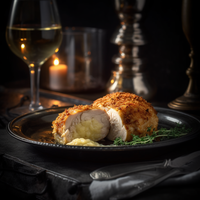 Cordon bleu is a classic French dish made with pounded and breaded chicken, filled with ham and cheese, and then fried or baked. The name "cordon bleu" comes from the French term for "blue ribbon," which was originally used to denote a high level of excellence or expertise.
Here are the steps to make cordon bleu:
Preheat your oven to 350°F (180°C) if you are planning to bake the cordon bleu. Alternatively, heat a large skillet over medium-high heat if you plan to fry it.

Take each chicken or veal cutlet and season it with salt and pepper on both sides.

Place a slice of ham on top of each cutlet, followed by a slice of cheese. Fold the cutlet in half, pressing down the edges to seal the filling inside.

Prepare three shallow bowls: one with flour, one with beaten eggs, and one with breadcrumbs.

Coat each cordon bleu with flour, shaking off any excess, then dip it into the beaten eggs and finally coat it with breadcrumbs, pressing the breadcrumbs firmly onto the surface.

If you are frying the cordon bleu, heat enough oil or butter in the skillet to cover the bottom. Fry the cordon bleu for about 3-4 minutes on each side, until golden brown and crispy.

If you are baking the cordon bleu, place the coated cutlets on a baking sheet lined with parchment paper. Bake for about 25-30 minutes, until golden brown and crispy.

Once cooked, remove the cordon bleu from the skillet or oven and let it rest for a few minutes before serving.
Cordon bleu is traditionally served with a side of vegetables, such as green beans or carrots, and starch like mashed potatoes or rice. It's a delicious and satisfying dish that's sure to impress your guests!
Best chicken Ever!
Can't rave enough about the chicken Cordon bleu.
It is absolutely delicious, every time!