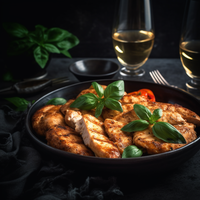 Chicken tenderloin is a lean and versatile cut of chicken that is perfect for a variety of dishes. Tenderloins are smaller and more tender than chicken breasts, making them easy to cook and perfect for a quick meal.
To prepare chicken tenderloin, start by seasoning the meat with salt, pepper, and any other desired seasonings such as garlic powder, paprika, or dried herbs. Here are three ways to prepare chicken tenderloin:
Pan-seared: Heat a tablespoon of oil in a pan over medium-high heat. Add the seasoned chicken tenderloins and cook for 3-4 minutes per side, until golden brown and cooked through. Serve with a side salad or vegetables for a simple and healthy meal.

Grilled: Preheat a grill to medium-high heat. Brush the chicken tenderloins with oil and grill for 3-4 minutes per side, or until cooked through. Serve on a bun or with a side of grilled vegetables for a summery meal.

Baked: Preheat the oven to 375°F. Line a baking sheet with parchment paper and place the seasoned chicken tenderloins on the sheet. Bake for 15-20 minutes, or until the chicken is cooked through. Serve with a side of roasted potatoes or steamed green beans for a comforting and filling meal.
No matter how you choose to prepare chicken tenderloin, it's important to make sure that the internal temperature of the meat reaches 165°F to ensure that it is fully cooked and safe to eat. With its mild flavor and tender texture, chicken tenderloin is a versatile ingredient that can be used in a wide range of dishes, from salads and sandwiches to stir-fries and pasta dishes.