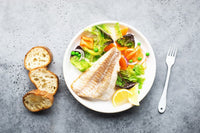 Cod tails are the meaty portion of the codfish that is found at the end of the spine. They are lean, white fish that has a mild, sweet flavor with a firm and flaky texture. The taste of cod tails is often described as being clean and delicate, making it a versatile ingredient that can be paired with a wide range of flavors.
One of the best ways to prepare cod tails is by pan-searing. Here's how:
Start by seasoning the cod tails with salt and pepper on both sides.

Heat a non-stick skillet over medium-high heat and add a small amount of oil to the pan.

Once the oil is hot, carefully place the cod tails into the skillet, skin side down.

Cook the cod tails for about 3-4 minutes on the skin side, until it becomes crispy and golden brown.

Flip the cod tails over and cook for another 1-2 minutes on the other side, until the fish is cooked through and flakes easily with a fork.

Remove the cod tails from the skillet and serve hot with your choice of sides and sauce.
Pan-searing is a great method for cooking cod tails as it allows the fish to retain its delicate flavor and texture while giving it a crispy outer layer. You can also try other cooking methods such as grilling, baking, or poaching depending on your preference. The versatility of cod tails makes it a great ingredient to experiment with and incorporate into a variety of dishes.