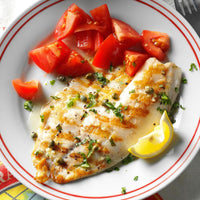 Tilapia fillets are mild-tasting white fish that is known for their versatility and ease of preparation. It has a delicate, tender texture and a slightly sweet, mild flavor that makes it a popular choice for a wide range of seafood dishes.
The best way to prepare tilapia fillets is by baking. Here's how:
Preheat your oven to 375°F.

Line a baking dish with parchment paper or lightly coat it with non-stick cooking spray.

Season the tilapia fillets with salt, pepper, and any desired spices or herbs.

Arrange the fillets in the baking dish and drizzle with olive oil.

Bake the tilapia fillets for 10-12 minutes, or until the fish is opaque and easily flakes with a fork.

Remove the tilapia fillets from the oven and serve hot with a squeeze of fresh lemon juice and any desired sides such as roasted vegetables or rice.
Baking is a great method for cooking tilapia fillets as it is quick and easy and allows you to add different flavors and seasonings to the fish. You can also try other cooking methods such as pan-searing or grilling depending on your preference. Tilapia fillets are a versatile ingredient that can be incorporated into a wide range of dishes, making it a great choice for both beginner and experienced cooks.