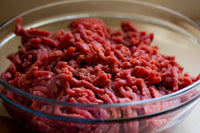 Ground Chuck HALAL 1lb
Ground chuck contains 15 to 20% fat and comes from the front area of the animal around the shoulder. This is a great all-purpose ground beef since it is not as fatty as regular ground beef but still has good flavor. 
Halal beef
Love being able to bring good quality halal beef to our friends. They love it and say it tastes so fresh.