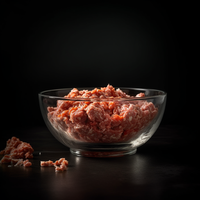 Sweet Italian ground meat is a type of ground meat that is typically made with a mixture of ground pork, seasoned with a blend of herbs and spices, including fennel, parsley, and garlic. The seasoning mixture is what gives the meat its distinct sweet and savory flavor.
The meat is often used in Italian dishes such as meatballs, spaghetti sauce, and lasagna. It can also be used as a filling for stuffed peppers, stuffed zucchini, or other vegetables.
Overall, sweet Italian ground meat is a flavorful and versatile ingredient that adds depth and richness to a wide variety of Italian dishes.
Ingredients:  pork, water, spice (salt, sugar, spice, garlic powder), binder (wheat flour, corn starch, potato starch).