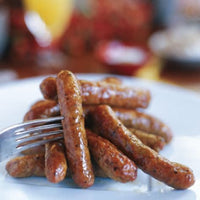 This breakfast sausage is made from Grade A Ontario Turkey, which means that it's of the highest quality and is sure to impress even the most discerning of meat lovers. 
At 11 lbs, this pack is perfect for meal-prepping or feeding a large family. It's also incredibly versatile and can be used in a variety of recipes, from breakfast sandwiches to casseroles.
One of the best things about this breakfast sausage is that it's made from Ontario turkey, which means that it's been raised and processed locally. This not only supports local farmers and businesses but also ensures that you're getting a product that's fresh and of the highest quality.

These turkey breakfast sausages are for anyone looking for a premium, high-quality breakfast sausage that's made with local high-quality turkey The fact that it's made with top-quality turkey is locally sourced and is incredibly versatile makes it a great option for anyone looking for a delicious and healthy breakfast alternative that adheres to their dietary restrictions.