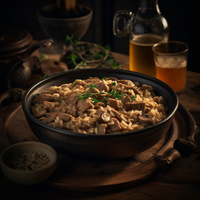 Veal stroganoff is a classic dish that originates from Russian cuisine and has become popular in many other countries as well. It typically consists of tender pieces of veal cooked in a creamy sauce and served over noodles or rice, often with mushrooms and onions. Here's how I would describe it:
Meat: Veal is a young and tender meat from calves that is prized for its delicate flavor and tenderness. In veal stroganoff, thin slices or bite-sized pieces of veal are commonly used. The veal is usually browned quickly in a hot pan to develop a caramelized crust and then simmered in the sauce to further infuse it with flavor.
Sauce: The sauce in veal stroganoff is typically creamy and rich. It is often made with a base of beef broth or stock, which is then combined with sour cream or sometimes heavy cream to create a luscious and velvety sauce. The sauce is usually seasoned with herbs and spices such as garlic, paprika, and mustard, which add depth and complexity to the dish.
Mushrooms and Onions: Mushrooms and onions are common additions to veal stroganoff. Mushrooms, such as cremini or white button mushrooms, are often sautéed along with onions to add earthy flavors and a slightly chewy texture to the dish. They also complement the creaminess of the sauce and add a touch of umami.
Noodles or Rice: Veal stroganoff is typically served over noodles, such as egg noodles or fettuccine, or sometimes over rice. The noodles or rice provide a hearty base for the creamy veal and sauce, soaking up the flavors and adding texture to the dish.
Garnish: As a finishing touch, veal stroganoff is often garnished with fresh herbs, such as parsley or dill, to add a burst of freshness and color to the dish. Some chefs may also add a dollop of sour cream on top for an extra tangy note.
Overall, veal stroganoff is a decadent and delicious dish that showcases the tender and delicate flavors of veal, combined with a creamy sauce, mushrooms, and onions. It's a comforting and satisfying dish that is often served as a special occasion or celebratory meal, and its rich flavors and elegant presentation make it a favorite among chefs and food lovers alike.